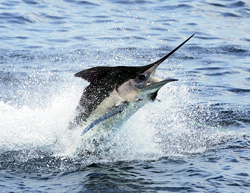 A Special Addition to Our "Dads and Grads" Celebration Vacation Package!
Due to the overwhelming response to the "Dads and Grads" Vacation Celebration, we're proud to extend the offer and add another exciting spin (or should we say "fin") on what we think is our BEST Vacation Package EVER!
To make your fishing vacation of a lifetime a LASTING MEMORY, Crocodile Bay in partnership with Gray Taxidermy are proud to gift to you a FREE* Full Size Marlin Replica Mount (a $2,000 value) to the "Dad" or "Grad" that catches the biggest Marlin during the "Run" of this promotion (May 26th to June 29th).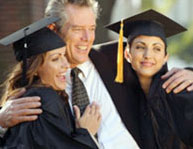 Summer is just around the corner and we are extending this great vacation package in recognition of the Dads that will be celebrating Father's Day and those Sons and Daughters at any age that will be celebrating graduation in the coming months, (MOM, we haven't forgotten you either - check out your FREE Spa gift below for Mother's Day!) we are excited to extend to you this special "Dads & Grads" Celebration Vacation Package on the Osa Peninsula of Costa Rica - with our New Gray Taxidermy FREE Replica Marlin to the "Dads and Grads" team who releases the biggest Marlin during the "run" of this promotion!
Book by Friday May 14th, 2013, and start your vacation between May 26th and June 29th, 2013, and "DAD" gets 1 to 2 NIGHTS **FREE on any three (3) night or more Fishing and/or Fishing/Adventure Collection package and your "GRADS" STAY FREE**
Finally, once you've finished building your customized "Dads & Grads" vacation package, we will honor our published May to November pricing discount of 20%**** OFF!!
Thanks to Gray Taxidermy, the industry leader in Replica Trophy Fish Mounts we will be presenting the "Dads & Grads" Team that catches the biggest Marlin a FREE Full Sized Marlin Replica!
2nd and 3rd Place Prizes include Gray Taxidermy 22" Personalized Trophy Mounts!

Now the fun starts. Please find below a sample "Celebration Vacation" package that will make this a family "Trip of a Lifetime!"
"Dads and Grads" Vacation Celebration Inclusion:

5 Days and 4 Nights Stay, with the 4th NIGHT FREE
The Dads and Grads" with biggest Marlin caught during this promotion (May 26th - June 29th, 2013) will Get a FREE Gray Taxidermy Replica Mount (Shipping not Included) Valued at over $2,000!
GRAD's STAY FREE!
MOM – can pick either the Fishing or Adventure Collection package at 20% OFF, plus receive the "INDULGE YOURSELF" Massage & Facial Special!
Just to get you in the "Marlin Mood" Check out this amazing underwater footage of a Pacific Blue Marlin "Sword Fighting" With a Teaser "Before the Catch" (GoPro Footage Courtesy Will Rogers of Boston Whaler)
LET THE MARLIN MAYHEM BEGIN! - "Before the Bite"

Ladies - This is not JUST for the guys! Here is a great testimonial from a recent Mother/Daughter(s) trip to Crocodile Bay!
The President and founder of Florida's Fishin' Chix, Claudia Espenscheid and her daughters explain why Crocodile Bay is the perfect family destination for fishing, whale and dolphin watching and more. Watch this great video testimonial by Claudia and her daughters!