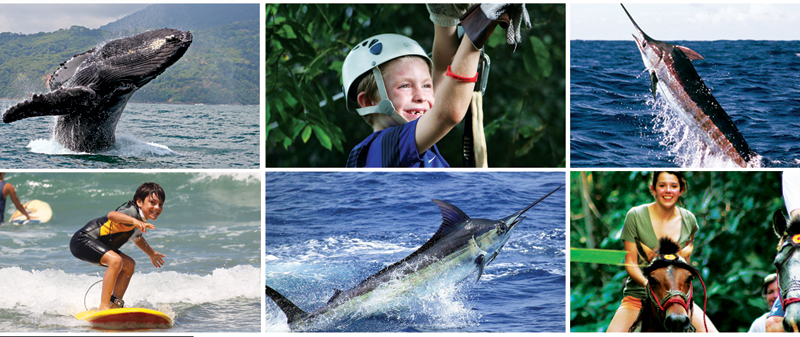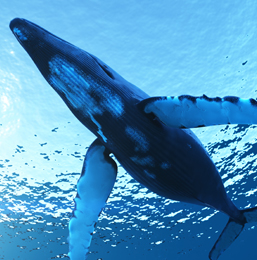 "HAPPY BIRTHYEAR SPECIAL!" In celebration of America's 237th Birthday, we are excited to offer you our "HAPPY BIRTHYEAR" Special. Book a three (3) night, one (1) day fishing package for two (2) persons on our STRIKE TOWER YACHTS for vacations starting between July 4th and September 30th and our "BIRTHYEAR" gift to you is A COMPLIMENTARY NIGHT with ALL TRANSFER FEES INCLUDED, so you and any member of your party twenty one (21) years or older (teens between sixteen (16) and twenty (20) will have a special discounted package available) pays only the amount "EQUAL TO THE YEAR YOU/THEY WERE BORN!"
That's right, if your BIRTHYEAR is 1958, you pay only $1,958 for the special outlined above. In addition, due to the exceptional response, our "Tails and Whales" SUNsational Summer of Kids Stay, Eat, Fish, *Fly and ** Watch Whales FREE Continues!
Now through September offers a great opportunity for Whale Watching (Humpback Whales) right in our back yard, the Golfo Dulce - Now when you book any Fishing Package of three (3) nights or more, you and your group or family will receive a complimentary Whale Watching Tour in the "Sweet Gulf"! This is the only gulf in the world where humpbacks migrate from both hemispheres twice a year to teach their young to hunt, breach and dive! Don't miss this once-in-a-lifetime experience! BOOK YOUR "HAPPY BIRTHYEAR" and "Tails and Whales" SUNsational Summer of KIDS FREE Vacation at Crocodile Bay Resort NOW.

We are confident that this will be your family "trip of a lifetime". Please fill out the reservation form on the right and book your trip to the world famous Crocodile Bay Resort today!
Here's a quick clip of some guests having the experience of a lifetime when they spot two Orcas just outside the gulf. This is one of several species you may encounter during your visit!
KIDS Stay, Eat and Fish promotion is good for up to two (2) kids 15 or under per room with at least one paying adult or guardian.

Kids 15 & Under Stay, Eat and Fish FREE!


Kids 12 & Under *Fly FREE (in-countrry)
Get a complimentary family **Whale Watching Excursion for up to four (4) family members with any summer fishing package of three (3) days or more!


July - August is Black and Striped Marlin Season (a Blue marlin can also surprise you any day of the year!)
July - September is PRIME Humpback Whale Watching Season!
Book now and get one (1) massage in our luxury Spa with any fishing package of three (3) days or more!
KIDS *Fly Free promotion is good for up to two (2) kids 12 or under (with at least one paying adult or guardian) and is a special offer run directly by NatureAir, Costa Rica's leading in-country airline.
Book by and start your vacation between NOW and September 30th, 2013, and your kid(s) 15 and under will Stay, Eat, Fish and *Fly FREE (NatureAir Fly free program is good for kids 12 and under)!


*KIDS FLY Free special offer is sponsored by Costa Rica's premier in-country airline, NatureAir and is valid for kids 12 and under flying with a paying adult ($250 roundtrip savings! - does NOT include International airfare and $30 each way per kid for taxes). For more information visit www.natureair.com
Eco/Adventure tours are available at an extra cost and may be purchased at the Resort.

LET THE FAMILY FUN BEGIN!

Here is a great testimonial from a recent Mother/Daughter(s) trip to Crocodile Bay!
The President and founder of Florida's Fishin' Chix, Claudia Espenscheid and her daughters explain why Crocodile Bay is the perfect family destination for fishing, whale and dolphin watching and more. Watch this great video testimonial by Claudia and her daughters!